Tue, 23 February 2016
114: Mark Nepo


This week we talk to Mark Nepo about the mysteries of life
Mark Nepo is a poet, philosopher and cancer survivor who has taught in the fields of poetry, health, and spirituality for forty years. A New York Times #1 bestselling author, he has published numerous books and audio projects. Mark has appeared with Oprah Winfrey on her Super Soul Sunday program on OWN TV, and has also been interviewed by Robin Roberts on Good Morning America.
His book The Book of Awakening is considered a modern spiritual classic. His latest book is called Inside the Miracle: Enduring Suffering, Approaching Wholeness
In This Interview Mark Nepo and I Discuss...
The One You Feed parable
Thinking of things as life affirming or life draining versus good and bad
How none of us really understands the mystery of life
How controlling and counting cuts off our access to the present moment
Resisting inflating or deflating ourselves
The real meaning of humility
How only the heart can synthesize our experience
The role and definition of paradox
Substituting what is familiar for what is true
The critical role of dialog and relation in a spiritual practice
For more show notes visit our website

---
Tue, 16 February 2016
113: Mirabai Starr


This week we talk to Mirabai Starr about grief and healing
Mirabai Starr writes, speaks and leads retreats on the inter-spiritual teachings of the mystics.
Known for her revolutionary translations of John of the Cross, Teresa of Avila, and Julian of Norwich, Mirabai renders mystical masterpieces accessible, beautiful, and relevant to a contemporary circle of seekers. Her commentaries on the interconnected wisdom of all traditions are lyrical and evocative.
Mirabai builds bridges not only between religious traditions, but also between contemplative life and compassionate service, between cultivating an inner relationship with the Beloved and expressing that intimacy in community, between the transformational power of loss and longing for the sacred.
Her latest book is called Caravan of No Despair
Our Sponsor this Week is MeetMindful
Visit MeetMindful and get a free trial

In This Interview, Mirabai Starr and I Discuss:
The One You Feed parable
Walking the landscape of loss in a genuine way
Learning to be present even when things are really hard
The death of her 14 year old daughter
How sometimes spiritual teachings fail us and are of no use
Realizing that we share our suffering with so many other people
The Stages of Grief
Returning to joy after great loss, it eventually happens
How tragedy and trauma are not guarantees to transformation
The states of mind that allow us to turn our pain into treasure
Cultivating curiosity about our experiences, even when painful
The Dark Night of the Soul
The transforming power of love
How vast we are as beings
Telling the truth about grief
The holiness of being broken open
What mysticism is
Mystical poetry
The desire to experience union
The four arms of yoga in Hinduism
Approaching the divine in the way that is best for each of us
What interspirituality is
The difference between interspiritual and interfaith
Mirabai Starr Links

---
Tue, 9 February 2016
113: Chris Grosso


This week we talk to Chris Grosso about Everything Mind
Only the third repeat guest on the The One You Feed, Chris Grosso is a public speaker, writer, and author of Indie Spiritualist: A No Bullshit Exploration of Spirituality and Everything Mind: What I've Learned About Hard Knocks, Spiritual Awakening and the Mind-Blowing Truth of it All.
He writes for ORIGIN Magazine, Huffington Post, and Mantra Yoga + Health Magazine, and has spoken and performed at Wanderlust Festival, Celebrate Your Life, Yoga Journal Conference, Sedona World Wisdom Days, Kripalu, and more.
In This Interview Chris Grosso and I Discuss...
The One You Feed parable
Welcoming Mara in
How there is no end point in life
His new book
How spirit surrounds us in all aspects of life
How spirituality includes the dark sides of ourselves
Finding spirituality everywhere, including Megadeath and Motorhead
The relative and absolute truth
The journey from the head to the heart
That there are different approaches to awakening
Art as a path to spirituality
Meditation versus mindfulness
Everything Mind
Discovering interdependence at a Motorhead show
Positive concentration practices

---
Fri, 5 February 2016
The Second Arrow- Mini Episode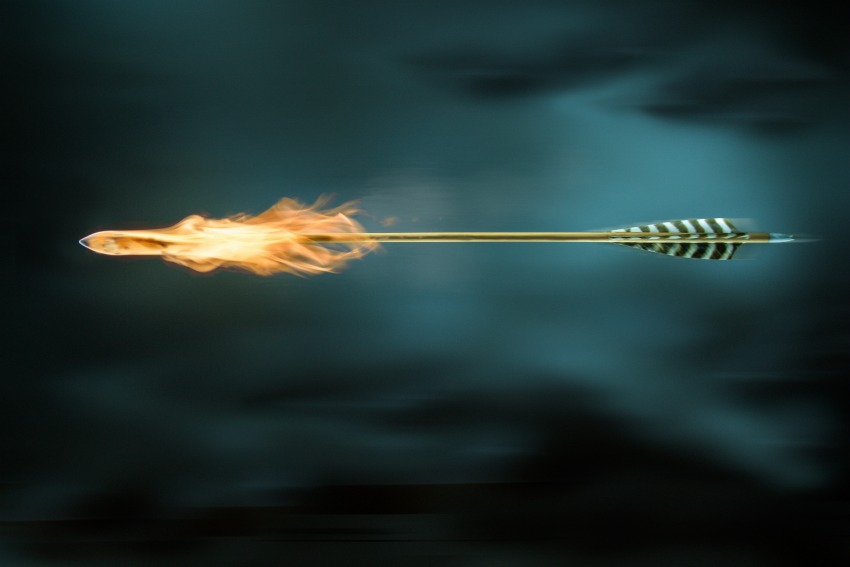 The Second Arrow
"The Buddha once asked a student, "If a person is struck by an arrow, is it painful?" The student replied, "It is."The Buddha then asked, "If the person is struck by a second arrow, is that even more painful?" The student replied again, "It is." The Buddha then explained, "In life, we cannot always control the first arrow. However, the second arrow is our reaction to the first. The second arrow is optional."
Eric describes the parable of the Second Arrow and how it to makes things worse.
---

---
The Tale of Two Wolves
A grandfather is talking with his grandson and he says there are two wolves inside of us which are always at war with each other.
One of them is a good wolf which represents things like kindness, bravery and love. The other is a bad wolf, which represents things like greed, hatred and fear.
The grandson stops and thinks about it for a second then he looks up at his grandfather and says, "Grandfather, which one wins?"
The grandfather quietly replies, the one you feed
The Tale of Two Wolves is often attributed to the Cherokee indians but there seems to be no real proof of this. It has also been attributed to evangelical preacher Billy Graham and Irish Playwright George Bernard Shaw. It appears no one knows for sure but this does not diminish the power of the parable.

---
Mon, 1 February 2016
112: Rainn Wilson


This week we talk to Rainn Wilson about the courage to be hopeful
Rainn Wilson is best known for his Emmy-nominated role as Dwight Schrute on NBC's The Office. Wilson also voiced the alien villain Gallaxhar in Monsters vs. Aliens (2009) and starred in the police procedural Backstrom
Today he's equally well-known for his millions of Twitter followers and the philosophy website he founded, SoulPancake, which creates media about life's big questions. and wrote a New York Times bestselling book of the same name.
The One You Feed parable
His new book The Bassoon King
How spirituality got a bad name
How spirituality is everything that we don't have in common with the monkeys
How happiness is not an if then proposition
The difference between happiness and joy
The balance between ambition and acceptance
How cynicism robs us of the gift of joy
How much easier it is to be cynical than to be hopeful
Bombing on Broadway
How success doesn't mean the end of the difficulties of life
The Baha'i faith
How the Baha'i faith encourages equality between women and men
Thomas Merton
Reconciling a loving God with the terrible things that happen in the world

---