Tue, 29 July 2014
036: Paul Gilmartin of The Mental Illness Happy Hour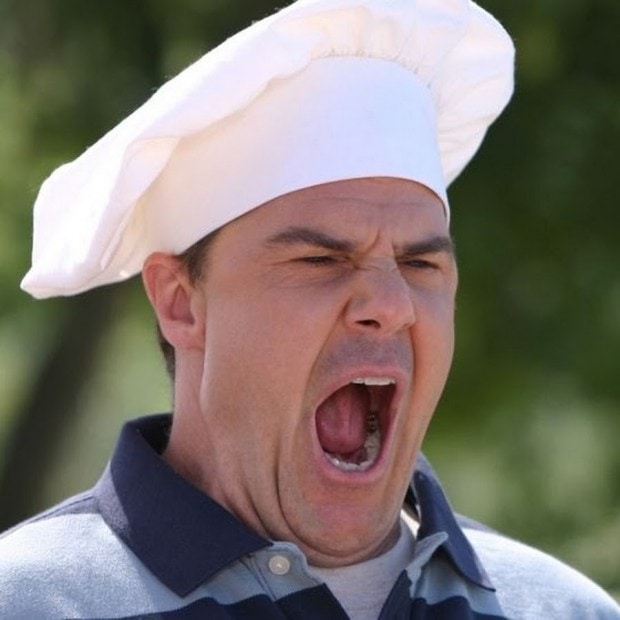 Paul Gilmartin, host of the Mental Illness Happy Hour.
Paul is a funny guy who hosts one of the most best podcasts on the market today. We have a great chat with Paul and we play a game at the end; borrowed from his show where he, Chris and I take turns exchanging things we are afraid of and things we love. It is certainly the most we have ever gotten from Chris on the air.
The Mental Illness Happy Hour is an interview show known for it's candor, depth and intensity. In addition to the interviews Paul reads surveys about their lives filled out by his listeners that are in turn enlightening, horrifying and heartrending. However, the show is ultimately very hopeful. The combination of Paul's' humor, and the hope that is generated when people know they are not alone, gives the show an optimism that transcends the difficult subject matter.
From 1995 to 2011 Paul Gilmartin co-hosted TBS' Dinner and a Movie, and has been a stand-up comedian since 1987. His credits include Comedy Central Presents: Paul Gilmartin, numerous Bob and Tom albums, comedy festivals and the Late Show with Craig Ferguson. He is also a frequent guest on the Adam Carolla podcast, performing political satire as right-wing Congressman Richard Martin.
In This Interview Paul and I Discuss...
The One You Feed parable.
Forgiving ourselves for past misdeeds.
The healing power of humor when used correctly.
Not using humor to avoid feelings or intimacy.
How we all have the lightest light and the darkest dark within.
The cinematography of The Godfather.
His battles with depression both present and past.
Not being an expert.
That there are no easy answers.
That there are no fast fixes.
When does positive thinking become denial.
Accepting ourselves as we are, and working to change ourselves at the same time.
Letting the mistakes of the past inform our decisions for the future.
Apologizing without expecting something in return.
How we think the way we feel now is the way we will feel forever.
How evolution has made us fear based.
Avoiding useless rumination.
An unshakeable peace....sometimes.
Treating depression like the emotional flu.
We take Paul's show staple of Love Off and Fear Off and all three of us do it.
Paul Gilmartin Links
Mental Illness Happy Hour homepage

Some of our most popular interviews you might also enjoy:
Todd Henry- author of Die Empty
---
Sun, 20 July 2014
035: Krista Tippett (On Being)
This week on The One You Feed we have Krista Tippett from On Being.
In This Interview Krista and I Discuss...
The One You Feed parable.
How modern news feeds our bad wolf.
How science and religion ask different questions.
How modern society looks for the most polarizing and strident views.
Listening as a spiritual virtue.
Being open to be surprised and amazed.
Not needing to have the answers.
Loving the questions themselves.
Paradox and ambiguity.
A reverence for mystery.
Arriving at some of the best places in our lives through mistakes.
Depression as a black pandoras box.
The things that go wrong for us become part of our gifts to the world.
We become great not in spite of the hardships but because of them.
The path to spiritual genius is through being fully human.
Krista's definition of spirituality- the inner work that accompanies our outer lives.
Humor as a virtue.
How she has never met a wise person who does not laugh often.
Krista Tippett Links

Some of our most popular interviews you might also enjoy:
Todd Henry- author of Die Empty
---
Tue, 15 July 2014
034: Strand of Oaks (Timothy Showalter)
This week on The One You Feed we have Timothy Showalter from Strand of Oaks.
Strand of Oaks aka Timothy Showalter just released one of the years best records. Heal has been celebrated by NPR, Pitchfork, Mojo and Uncut among many others. It's one of our favorite records of the year. The story behind Heal:
"
From the first bars of HEAL, the exhilarating melodic stomp of 'Goshen '97' puts you right into Tim Showalter's fervent teenage mindset. We find him in his family's basement den in Goshen, IN, feeling alienated but even at 15 years old, believing in the alchemy and power of music to heal your troubles. "The record is called HEAL, but it's not a soft, gentle healing, it's like scream therapy, a command, because I ripped out my subconscious, looked through it, and saw the worst parts. And that's how I got better." HEAL embodies that feeling of catharsis and rebirth, desperation and euphoria, confusion and clarity. It is deeply personal and unwittingly anthemic.
Showalter was on tour, walking home on a mild autumn night in Malmo, Sweden, when he first felt the weight of the personal crisis that would ignite him to write
HEAL
. "It was a culmination of pressure," Showalter recalls. "My marriage was suffering, I'd released a record I was disappointed in, I didn't like how I looked or acted...so I'd gone on tour, I was gone about two years! I didn't take time to think about failure, but I knew I was going deeper and deeper...I was thinking, I have this life, but it's not my life, I haven't done it right..."When Showalter returned, he wrote 30 songs in three weeks, a process that proved difficult, but cathartic and at times invigorating. Previous Strand Of Oaks records were more skeletal, raw examples of folk-rooted Americana with occasional rock and electronic currents, that have now come to the fore.
HEAL
is a bold new beginning, with a thrilling full-tilt sound that draws on Showalter's love of '70s, '80s and '90s rock and pop, with the singer and guitarist playing the intense valedictory confessor.
In This Interview Tim and I Discuss...
The One You Feed parable.
The great success of his new record.
The saddest line on his new record.
The importance of feeling all of our emotions, not just the good ones.
How hard it is to write uplifting music that isn't cheesy.
Disliking ironic music.
The redemptive power of rock and roll.
How we care less about what people think as we age.
The power of being our authentic selves.
Becoming who we are.
Avoiding the victim/villain mindset.
Jason Molina of Songs:Ohia.
Fighting the dark times.
Strand of Oaks Links
Strand of Oaks playlist on YouTube

Some of our most popular interviews you might also enjoy:
Todd Henry- author of Die Empty
---
Tue, 8 July 2014
033: Kino MacGregor
This week on The One You Feed we have Kino MacGregor.
We interviewed Kino after one of her weekend yoga retreats that she held in Columbus. We talked upstairs in a loft above the meeting space. She was warm, engaging and wise.
She is an international yoga teacher, author of two books, producer of six Ashtanga Yoga DVDs, writer, vlogger, world traveler, co-founder of Miami Life Center (www.miamilifecenter.com) and founder of Miami Yoga Magazine (www.miamiyogamagazine.com). Her YouTube channel reached more than 2 million views within the last year(www.youtube.com/kinoyoga). She is one of a select group of people to receive the Certification to teach Ashtanga Yoga by its founder Sri K. Pattabhi Jois in Mysore, India and practices through the Fourth Series of Ashtanga Yoga.
Without any background in movement training Kino tried her first yoga class when she was nineteen. Three years later, she joined Govinda Kai's Mysore-style classes in New York City and became a dedicated Ashtanga yoga practitioner. After seven months of traditional Ashtanga practice Kino traveled to Mysore, India to meet her true teacher, Sri K. Pattabhi Jois ("Guruji"). Upon her return she began real self-practice by practicing alone and devoting herself entirely to the study and teaching of Ashtanga yoga. After seven years of consistent trips to Mysore, at the age of 29, she received from Guruji the Certification to teach Ashtanga yoga and has since worked to pass on the inspiration to practice to countless others.
In This Interview Kino and I Discuss...
The One You Feed parable.

Keeping your peace of mind regardless of the circumstances.

How hard yoga can be.
How yoga intentionally challenges your nervous system.
Retraining the habit pattern of your nervous system.
Walking the middle path.
Not craving pleasure and pushing away pain.
Taking what you learn during yoga out into the world.
The value of surrendering to a method.
Finding a genuine teacher.
Yoga as a spiritual practice.
Yoga and meditation in a secular setting.
Using physical limits as a mirror for the inner journey.
Her story of becoming a yoga teacher.
Her depression, searching and questioning.
Learning to not force everything.
Meeting her teacher.
The definition of truth as "what works".
How what works one day may not work the next day.
The multiple versions of the truth.
The paradox of ambition versus acceptance.
Balancing efforts between striving and not attachment to results.
How depression can be the ultimate quitting.
That love doesn't make the pain go away but love is still bigger.
Kino MacGregor Links
Ashtanga Yoga:Primary Series with Kino MacGregor
Ashtanga Yoga: Intermediate Series with Kino MacGregor
The Power of Ashtanga Yoga: Developing a Practice That Will Bring You Strength, Flexibility, and Inner Peace
Sacred Fire: My Journey Into Ashtanga Yoga
Kino MacGregor You Tube channel

Some of our most popular interviews you might also enjoy:
Todd Henry- author of Die Empty
---
Tue, 1 July 2014
032: Dan Harris
This week on The One You Feed we have Dan Harris.
Dan is best known for his work on ABC News, Nightline and Good Morning America, but we invited him on the show because of his latest book: 10% Happier: How I Tamed the Voice in My Head, Reduced Stress Without Losing My Edge, and Found Self-Help That Actually Works--A True Story.
I was fascinated by this book. Dan was driven to meditation and self help out of a self imposed crisis after he had a panic attack on national TV. His journey through that landscape mirrored my own to some degree. He had a degree of skepticism from the beginning that he retains today. He also was perplexed by the paradox that most fascinates me: What is the degree that serenity can erode our ambition?
Going from the esoteric teachings of Eckhart Tolle to the down to earth practical modern buddhism of Mark Epstein (author of the classics Going to Pieces Without Falling Apart and Thoughts without a Thinker) he was able to find an approach that worked for him. The book is insightful, hilarious and very instructive.
In This Interview Dan and I Discuss...
The One You Feed parable.
That the mind can be trained for compassion and happiness.
Exercising the brain just like the body.
The science of meditation.
The message for people who are skeptical of meditation.
The voice in my head is an asshole.
10% happier not unicorns and rainbows.
What meditation isn't.
Reading Eckhart Tolle.
Our tendency to focus on the bad things and ignore the good.
The difference between constructive anguish and useless rumination.
The difference between pain and suffering.
"the craving to be elsewhere, to be otherwise, permeated my life"
The tendency to project into the future.
"The background static of perpetual discontent".
How we are like colicky babies who are never quite satisfied.
His conflicted view on the tendency to never be satisfied.
How dissatisfaction can drive us forward.
When it is useful to keep pushing and when is it better to back down?
The happiness set point theory.
Raising our emotional set point.
Ambition versus satisfaction.
Motivation coming from happiness versus pain.
Not being attached to the results.
Romanticizing melancholy.
How a certain amount of stress is necessary.
Being happy does not work at cross purposes to being successful.
Dealing with failure.
How when our minds wander we are less happy.
Meditation in less than 140 characters.
Remembering to feed the good wolf.
How one of the meanings of mindfulness is remembering.
Training to be less of an asshole.
Dan Harris Links

Some of our most popular interviews you might also enjoy:
Todd Henry- author of Die Empty
---