Wed, 25 June 2014
031: Lewis Howes
This week on The One You Feed we have Lewis Howes.
I first talked with Lewis when he reached out to us shortly after our launch of the show to introduce himself. He noticed we were from Columbus, Ohio where he used to live. It was a truly kind gesture and it was awesome for us to talk with someone so successful in the podcasting world. He invited us to join his excellent podcasting network, The Integrity Network.
We were lucky enough to make this another in person interview. We visited Lewis in his West Hollywood apartment. Lewis is one of those people who seem to have it all together and have the perfect life. But it wasn't always that way for him. He grew up feeling alone and like he didn't belong. He suffered awful childhood sexual abuse. He had a great deal of trouble learning to read, he thought he was stupid. An injury ended his athletic career at.
Like all people, he has faced adversity. In our conversation he discusses how he has overcome that adversity. He also names the ability to overcome adversity as the trait that most stands out from all the amazing people he has talked with on his podcast, School of Greatness.
We had a lot of great discussion before and after the podcast. Lewis pressed me on some decisions I make in my life and gave me a lot to think about. He was generous, kind and extremely helpful and suppotive.
In This Interview Lewis and I Discuss...
The One You Feed parable.
The importance of the environments we place ourselves in.
Feeding the bad wolf.
Learning to come from a place of kindness versus defensiveness.
Growth mindset vs the fixed mindset.
The importance of perspective.
Avoiding the victim mindset.
Using inner and outer feedback.
How to be a better communicator.
Not taking things personally.
His definition of greatness.
The poison of comparison.
Growing more resilient and courageous.
Turning things into a game.
The goal of life.
Falling in love with pain.
Using pain to get stronger.
Not resisting.
His adventure with the US National Handball team.
His upcoming book.
His dream of being an Olympian.
The key to success=consistency.
---
Tue, 17 June 2014
030: Lama Kathy Wesley
This week on The One You Feed we have Lama Kathy Wesley.
Wow...episode #30. Thanks to all of you listening out there.
This interview was the 2nd interview we ever conducted and our longest episode we have ever aired. We conducted the interview at Lama Kathy's meditation center. It is a beautiful facility and a great room to record in.
Early on we thought it would be a good idea to talk as long as we could and then edit it down to our usual ~30 minute time frame. We learned the hard way that editing that much material is very time consuming and painful. It's painful because there are so many great insights that it hurts to limit it. I think we talked with Lama Kathy for over 90 minutes. We were simply unable to get much below an hour for the total because it was such a great interview.
We conducted it at the Columbus meditation center where Lama Kathy is the resident teacher. It is called Karma Thegsum Choling (KTC) and is a Tibetan meditation center. It is part of the Kagyu lineage which stretches back in an unbroken line of teachers to the 10th century.
Lama Kathy is the resident teacher at KTC and is in frequent demand, teaching at centers throughout the US. She has been a student of Khenpo Karthar Rinpoche since 1977. She participated in the first three-year retreat led by Khenpo Rinpoche at Karme Ling Retreat Center in upstate New York, and thus earned the title of "retreat lama." She is a graduate of Ohio State University with a bachelor's degree in journalism and lives in Newark, Ohio with her husband, Michael.
In This Interview Lama Kathy and I Discuss...
Her spiritual path.
How she became a Buddhist lama.
The one teaching that is most important.
How her life no longer belongs to her, but to everyone.
The reason to pursue spiritual teachings.
How spirituality is evolutionary.
That people come to spiritual path out of pain or confusion.
The importance of a spiritual method or technique.
How our stories in our mind change as we quiet the mind.
How some relief from our own pain and suffering makes it easier to help others.
Approaching the spiritual path.
The value of a good teacher.
The different approaches to meditation.
The one you feed parable.
How happiness and suffering arrive from the inside.
The universality of truth.
The importance of picking a path and sticking to it.
How egotism can co-opt anything.
Spiritual materialism.
The obstacles we face on the path of spirituality.
Doubt.
The beer commercial approach to spirituality.
The danger of expectations.
The difference between effort and struggle.
How love and compassion are always the answer.
Relative vs universal compassion.
Lama Kathy Links
Columbus Karma Thegsum Choling
Dharma Paths book recommended by Kathy

Some of our most popular interviews you might also enjoy:
Todd Henry- author of Die Empty
---
Tue, 10 June 2014
029: Jon Wurster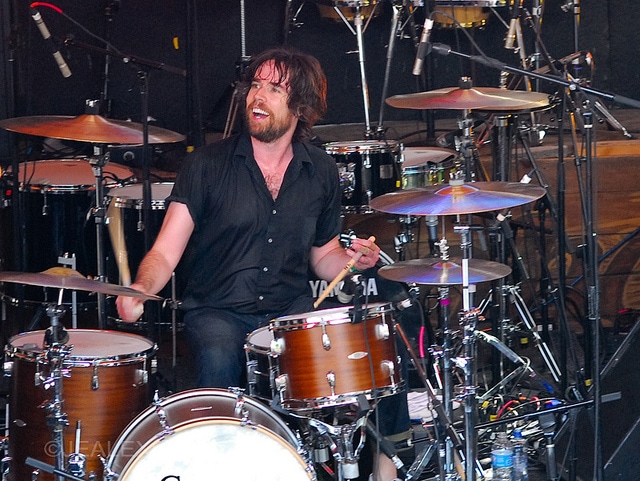 ---
This week on The One You Feed we have Jon Wurster.
Jon Wurster is an American musician and humorist best known as the drummer for indie rockers Superchunk, The Mountain Goats and Bob Mould as well for his comedic work with radio host Tom Scharpling on the The Best Show on WFMU.
Wurster has recorded and/or performed live with artists such as Bob Mould, Jay Farrar, Ben Gibbard, Robert Pollard, Katy Perry, The New Pornographers, Rocket from the Crypt, Ryan Adams, R.E.M., Guided by Voices, Marah, Alejandro Escovedo,A.C. Newman, Chris Stamey and Peter Holsapple, Inspiral Carpets, The Minus 5, and Charlie Daniels.
Wurster is one half of the radio comedy team Scharpling and Wurster. Tom Scharpling is the longtime host of The Best Show on WFMU radio program. The duo have been releasing CDs on their Stereolaffs label since 1999. Their most recent album is 2007's The Art of The Slap. Scharpling and Wurster have collaborated in music videos written and directed by Tom Scharpling and starring Wurster. The videos were created for The New Pornographers, Aimee Mann, and The Postal Service.
Wurster has written for television shows such as Your Pretty Face is Going to Hell, Monk, Squidbillies, Tim and Eric Awesome Show and Tom Goes to the Mayor.
In This Interview Jon and I Discuss...
The One You Feed parable.
The importance of acknowledging the bad wolf.
Some of his favorite personal development books.
Learning to take what you like from books and leaving the rest.
His early depression.
WordHate™
His dislike of the ukulele music trend.
Not trusting people from different social circles.
His comedy with Tom Scharpling on The Best Show on WFMU.
His favorite character from The Best Show.
His touring schedule.
His decision to stop drinking.
The negative downward cycle of drinking.
The enjoyment of playing sober.
The music he turns to for inspiration.
Getting started in music.
Playing rock music with Stephen Dubner.
Remembering that we are all "works in progress".
The importance of self-awareness.
Learning to guide our behavior by how it makes us feel.
Jon Wurster Links
Sterolaffs-The home of Wurster and Schaprling
The Best Show on WFMU Archives
Best Show Gems- Almost exclusively Jon's phone calls.

Some of our most popular interviews you might also enjoy:
Todd Henry- author of Die Empty
---
Tue, 3 June 2014
028: Anna David
---
This week on The One You Feed we have Anna David.
I met Anna at her studio in Los Angeles where she records the AfterParty Pod. If I didn't insist on trying to keep the conversation close to 30 minutes we might still be talking.
Anna David is the New York Times-bestselling author of the novels Party Girl and Bought, the non-fiction books Reality Matters, Falling for Me, By Some Miracle I Made It Out of There and True Tales of Lust and Love and the Kindle Singles Animal Attraction and They Like Me, They Really Like Me.
She was the sex and relationship expert on G4's Attack of the Show for over three years and is a regular guest on The Today Show, Fox News' Hannity and Red Eye, The CBS Morning Show, Dr. Drew, The Talk, Jane Velez-Mitchell, Inside Edition and various other programs on Fox News, NBC, MSNBC, CTV, MTV News, VH1 and E. Her Sirius radio show was the network's number-one specialty show and she's written for The New York Times, The LA Times, Details, Playboy, People, Cosmo, Us Weekly, Redbook, Maxim, Movieline, Women's Health, Vice, The Daily Beast, The Huffington Post,Buzzfeed, xojane and Salon, among many others. She has been an editor at the websites Styleclick, Dipdive and The Fix, an assistant editor at Parenting and a staff writer for Premiere. In 2011, she created the storytelling show True Tales of Lust and Love (now a web series for Ish Entertainment and soon to be a comedy pilot), which she hosted until it closed in 2014.
In 2013, Anna created TheAfterPartyGroup, which is made up of articles and a podcast focused on de-stigmatizing addiction. She sold the company in 2014 but continues to run the site and podcast. She speaks on television and at colleges across the country on addiction and is on the board of The Peggy Albrecht Friendly House, the oldest women's recovery house in the US.
In This Interview Anna and I Discuss...
The One You Feed parable.
Not knowing that we have a choice in how we feel and think.
Understanding that we have some control in our happiness.
How self obsession was making her so unhappy.
The difference between sadness and self-pity.
When to accept feelings and when to change them.
How hard it is to tell what we can change and what we need to accept.
How our default position tends to be negative.
Feeling bad about feeling bad.
The emptiness of acquisition.
The different paths to addiction.
Feeling that we need to take care of others emotions.
Not settling.
Always thinking that life is somewhere else in the future.
Fear of looking vulnerable.
Fostering cooperation instead of competition.
Despair and Compare.
Deciding to embrace the life we have.
Comparing our insides to other people's outsides.
How no one's life is perfect.
Anna David Links
Anna's Podcast- AfterParty Pod
Anna David Author page on Amazon

Some of our most popular interviews you might also enjoy:
Todd Henry- author of Die Empty
---